Luxury hotels are the most incredible location to live when you need to get out of hectic daily life. Moreover, to experience royal hospitality, head to Rajasthan and book your stay in one of the Rajasthan luxury hotels.
Rajasthan is widely recognized for its rich cultural history and is among India's top tourist attractions. Further, the region has a lot to offer, from historic forts to beautiful castles and cultural monuments. Rajasthan is among the most royal states in India, with a rich Mughal past and even some of the world's best hotels, ranging from royal palace accommodations to antique Villas and far more.
Whether you consider luxury India tours or budget vacations, a break in one of Rajasthan's royal hotels is a must. The following are some of the luxuries stays in Rajasthan worth considering for your next visit to the region.
The Best Rajasthan Luxury Hotels & Resorts To Consider While At Rajasthan
For top-notch accommodation in Rajasthan on your Rajasthan luxury tour, here are some of the luxury resorts and hotels you can consider for your stay.
1. The Oberoi Udaivilas, Udaipur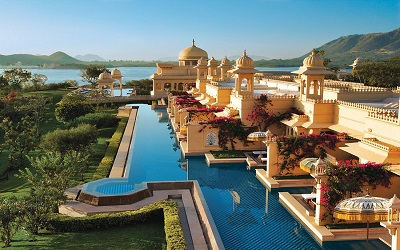 This enormous Rajasthan luxury resort on the shores of Lake Pichola in Udaipur spans 50 acres (20.2 hectares) and has towering domes and huge pavilions. It has patios, fountains, and gardens on nearly every corner, offering various views. Further, the Rajasthan 5-star Resorts has two restaurants serving a range of cuisines, a lounge, two warmed pools, and a spa. Furthermore, each hotel's guest rooms have a lounging space next to a window, enabling visitors to take in the breathtaking views. Additionally, the rooms have exquisite artwork and sumptuous carpets. There is an electronic lock, a satellite tv, and a minibar in each room.
2. Trident, Jaipur
This five-star hotel in Udaipur encompasses 43 acres of beautiful gardens and is adorned with magnificent archways and arches around. They feature expansive suites with aristocratic interiors and extravagant amenities.
Guests can unwind with a refreshing dip in the pool or lounge in the poolside seating area. On-site dining options include three casual eateries providing well-prepared foreign cuisine. The hotel features 130 rooms and two suites, each individually designed to maximize natural light. Each room has an LCD tv, a sizeable closet, complimentary Wi-Fi, a private bar, and a variety of other facilities.
3. The Kumbha Residency
The Kumbha Residency is along the Qila Kumbhalgarh region, barely 10 miles (16 kilometers) from the city center among the Rajasthan luxury hotels. It provides convenient access to various local areas of interest. Further, most of the hotel's guest rooms have a TV, a safety deposit box, a dressing area, and a fireplace. Enjoy the day meandering around the ancient city center, relaxing in the resort's gorgeous pool. In contrast, the kids can enjoy themselves at the kids club or rest in your magnificent accommodation and watch movies. Additionally, there are barbeque facilities if you want to cook some meat, or you may dine in the eatery, which has a variety of seating options.
4. The Leela Palace Udaipur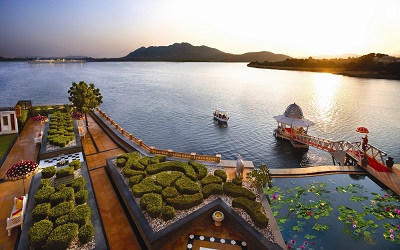 Leela Palace Udaipur offers a calm and undisturbed vacation with views of Lake Pichola's magnificence. This majestic hotel, surrounded by the Aravalli Hills, has an exquisite spa, landscaped gardens, and a swimming pool. Additionally, each guestroom has magnificent decorations and indigenous crafts inspired by Rajasthan's illustrious cultural heritage. Further, the Leela Palace is prominent for its exquisite food, opulent facilities, lovely boat excursions, and cultural events held in the magnificent inner courtyard. So, don't forget to consider this amongst the Rajasthan luxury hotels.
5. Taj Lake Palace, Udaipur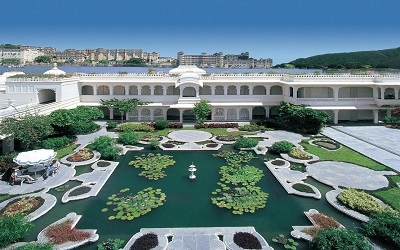 Among the Rajasthan 5-star resorts list, the resort is floating amid Lake Pichola and has opulent suites and first-rate services. This island hotel has magnificent apartments with antique components and huge living areas. So, you consider this hotel amongst the Rajasthan luxury hotels. This magnificent and elegant location dates back to the 1700s and boasts some of the finest impressive buildings in the world. The resort offers pampering amenities.
Due to its central location on Lake Pichola, visitors will enjoy panoramic views of the City Palace, Aravalli, Machala Magra hills, etc.
Their restaurants specialize in European cuisine and have rooftop dining choices. Additionally, they feature a stylish bar, an outdoor swimming pool, and a spa. Moreover, visitors may enjoy the private pool, the 24-hour fitness facility, the cold and hot spas, and the gaming area. Each of the hotel's rooms has exquisite furnishings and high-quality textiles.
There are various eateries here serving a range of cuisines and a bar with a selection of cigars, wines, and sheeshas. So, to experience luxury, consider the Taj Lake Palace, amongst the Rajasthan luxury hotels.
6. Samode Haveli
This resort, nearby Jaipur, is over decades old and was formerly the home of the Samode rulers. Moreover, the hotel retains its stunning tradition and architecture, providing visitors with a sense of royal life while still providing contemporary conveniences. Each space is distinctive with its interior design. They also feature a multi-cuisine eatery that provides some of the region's most sumptuous meals. They also offer additional activities such as local excursions and spa services.
7. Fairmont Jaipur
This gorgeous and scenic resort for a luxury stay in Rajasthan is at Jaipur, located close to the Amber Fort and has imperial Mughal architecture. They have gorgeous landscapes and patios, a well-equipped gymnasium, and a pool with lounge spaces. Additionally, the Ruhab Spa offers some of the greatest spa treatments for the hotel's guests. There are two eateries and three bars on the premises. So, don't miss out on the Rajasthan luxury hotels.
8. Suryagarh, Jaisalmer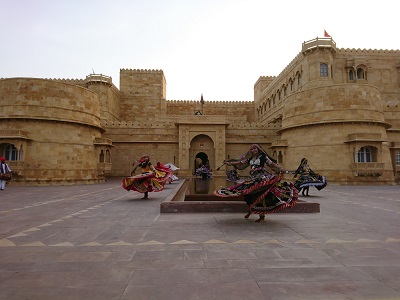 Recognized as being one of the best resorts in Jaisalmer, this historic palace-turned-hotel has opulent facilities such as an indoor swimming pool, landscaped gardens, and spa and fitness center. Additionally, elegant rooms with minibars, coffee machines, and ergonomic workstations complement the property's restored classic decor. At their multinational restaurant and sophisticated bar area, savor hand-picked Indian flavors. So, don't forget to consider this beauty amongst your Rajasthan luxury hotels.
9. Taj Fateh Prakash Palace
If you're in Udaipur and looking for a lavish hotel in a regal manner, Taj Fateh Prakash Palace is a must-consider. This facility, complete with a swimming pool, a lovely lake-facing lounging area, an on-site eatery, and various other facilities, captures being in a royal state well. Each royal room has contemporary amenities equipped and world-class facilities and a balcony overlooking the gorgeous lake. Take advantage of your visit and make experiences that will last a lifetime.
10. Pratap Mahal Pushkar
This magnificent resort, positioned on Pushkar Bypass Road 6.2 miles (10 kilometers) from Brahma Temple, has an outdoor pool and grill area open year-round, a kid's playground, and stunning mountain views. Guests may unwind in big and comfortable guest suites suitable for royalty. Further, dine in the spectacular eatery or have beverages on the balcony of your accommodation while taking in the beautiful views. Unwind with a swim in the pool or a treatment at the spa.
Final Say
Your Rajasthan luxury tour is incomplete without having a luxury stay in Rajasthan. So, plan your holidays and stays in one of the mentioned Rajasthan luxury hotels to experience what luxury is all about. Contact the travel operators at LIH Travels to help you curate a luxury tour at the best prices.